TourArchiv 2007
The Mission live in London 2007
Noch erhältlich:
Die auf 1500 Stück limitierte und exklusive Doppel CD vom The Mission Konzert am 30.05.2007 in London - Shepherds Bush Empire.

Bestellen könnt ihr direkt HIER
Trackliste gibt`s HIER



Tour Is A Bullet 2007
15.05. - 02.06.2007

UK, NL, Deutschland, Schweden,
Dänemark, Frankreich & Israel

Support: David R. Black (außer Israel)
Plus Miles Hunt in Wolverhampton

Songliste (soweit bekannt)



Und noch eine alternative Version des Banners / Posters

Klickt auf die Bilder für die Vergrößerung



UK

15.05.2007 Bristol, UK - Academy
Support: David R Black
headshrinker, hands across the ocean, like a child again, dumb, severina, to love & to kill with the very same hand, afterglow, belladonna, butterfly on a wheel, absolution, naked & savage, evangeline, grotesque
1. Zugabe: serpents kiss, fabienne (stand auf Setlist, wurde aber nicht gespielt), wasteland
2. Zugabe: still deep waters (abgebrochen), beyond the pale, deliverance
3. Zugabe: tower of strength
review & pics
more pics (extern) & here
review & pics (extern)



16.05.2007 Manchester, UK - Academy 2 (vorher 3)
Support: David R Black
headshrinker, hands across the ocean, like a child again, chinese burn, severina, in silhouette, fabienne, blush, butterfly on a wheel, draped in red, naked & savage, evangeline, grotesque
1. Zugabe: serpents kiss, keep it in the family, wasteland
2. Zugabe: still deep waters (stand auf Setlist, wurde aber nicht gespielt), beyond the pale, deliverance
3. Zugabe: tower of stregth
review & more pics


17.05.2007 Glasgow, UK - ABC
Support: David R Black
headshrinker, hands across the ocean, like a child again, dumb, severina, you`ll never walk alone, blush, heaven knows, draped in red, butterfly on a wheel, absolution, naked and savage, evangeline
1. Zugabe: grotesque, wasteland, deliverance
2. Zugabe: tower of strength


18.05.2007 Wolverhampton, UK - Civic
Support: Miles Hunt & David R Black
headshrinker, hands across the ocean, like a child again, severina, afterglow, belladonna, in silhouette, blush, butterfly on a wheel, absolution, naked & savage, evangeline, grotesque
keep it in the family, wasteland, beyond the pale, deliverance, tower of strength
(unvollständig und Reihenfolge fraglich)
pics (extern)
more pics (extern)




Niederlande & Deutschland

20.05.2007 Zoetermeer, NL - Boerderij
Support: David R Black
headshrinker, hands across the ocean, like a child again, dumb, severina, keep it in the family, chinese burn, draped in red, butterfly on a wheel, absolution, naked & savage, evangeline (inc. gimme, gimme, gimme), grotesque
1. Zugabe: (alle drei NICHT gespielt) serpents kiss, blush, wasteland
2. Zugabe: father, beyond the pale, deliverance
3. Zugabe: tower of stregth
pics & short review (ger.)
more pics (extern) & HIER
>>> download father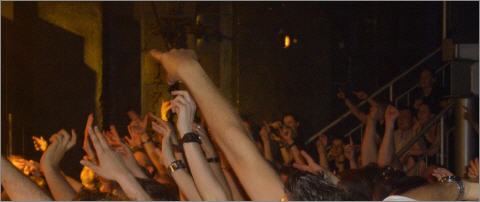 Crowd in Bochum
21.05.2007 Bochum, D - Zeche
SOLD OUT - AUSVERKAUFT
Support: David R Black
headshrinker, hands across the ocean, like a child again, in silhouette, severina, to love & to kill with the very same hand, afterglow, blush, butterfly on a wheel, belladonna, naked & savage, evangeline, grotesque
1. Zugabe: serpents kiss, wasteland
2. Zugabe: still deep waters, beyond the pale, deliverance
3. Zugabe: tower of strength (+ vom Band: you`ll never walk alone)
pics & short review (ger.)
more pics & hier (extern)
engl. review (extern)



22.05.2007 Herford, D - Club X
Support: David R Black
headshrinker, hands across the ocean, like a child again, dumb, severina, keep it in the family, heaven knows, draped in red, butterfly on a wheel, absolution, naked & savage, evangeline, grotesque
1. Zugabe: to love & to kill..., serpents kiss, wasteland
2. Zugabe: fabienne, beyond the pale, deliverance
3. Zugabe: tower of strength
pics & short review (ger.)




Schweden & Dänemark

24.05.2007 Götheburg, S - Tradgarn
Support: David R Black



25.05.2007 Stockholm, S - Berns
Support: David R Black
headshrinker, hands across the ocean, like a child again, dumb, severina, family, afterglow, blush, butterfly on a wheel, absolution, naked and savage, evangeline, grotesque
1. Zugabe: serpents kiss, wasteland, father
2. Zugabe: beyond the pale, deliverance
3. Zugabe: tower of strength
more pics from Russel (extern) - thanks!


Pics: Russel - thanks
26.05.2007 Malmo, S - KB
Support: David R Black
headshrinker, hands across the ocean, like a child again, in silhouette, severina, keep it in the family, heaven knows, to love & to kill with the very same hand, butterfly on a wheel, belladonna, naked & savage, evangeline, grotesque
1. Zugabe: serpents kiss, wasteland
2. Zugabe: father, beyond the pale, deliverance
3. Zugabe: tower of strength
Thanks Marc for the setlist & Dave for the pics!
more pics



27.05.2007 Odense, DK - Rytmeposten
Support: David R Black
headshrinker, hands across the ocean, like a child again, dumb, severina, family, afterglow, draped in red, butterfly on a wheel, absolution, naked & savage, evangeline, grotesque
1. Zugabe: serpents kiss (nicht gespielt), wasteland
2. Zugabe: beyond the pale (nicht gespielt), deliverance, tower of strength
pics - thanks to Robin & Ingo
more pics - thanks to Dave Pepper




Frankreich, UK & Israel
29.05.2007 Paris, F - La Locomotive
Support: David R Black
headshrinker, hands across the ocean, like a child again, dumb, severina, keep it in the family, afterglow, blush, butterfly on a wheel, absolution, naked & savage, evangeline, grotesque
1. Zugabe: serpents kiss, wasteland
2. Zugabe: beyond the pale, deliverance
3. Zugabe: tower of strength
pics - thanks to Richard!
more pics & here (extern)



30.05.2007 London, UK - Shepherds Bush Empire
Support: David R Black
headshrinker, hands across the ocean, like a child again, dumb, severina, fabienne, keep it in the family, afterglow, blush, butterfly on a wheel, absolution, naked & savage, evangeline (inc. gimme, gimme, gimme), grotesque
1. Zugabe: serpents kiss, wasteland
2. Zugabe: beyond the pale, deliverance
3. Zugabe: tower of strength
review (engl.) & pics
Videolinks (YouTube) von Chinners:
dumb, grotesque, beyond the pale



01.06.2007 Tel Aviv, Israel - Barby


02.06.2007 Tel Aviv, Israel - Barby
beyond the pale, hands across the ocean, like a child again, in silhouette, severina, fabienne, heaven knows, keep it in the family, serpents kiss, naked & savage, evangeline, wasteland, grotesque
1. Zugabe: butterfly on a wheel, deliverance
2. Zugabe: tower of strength
more pics (extern)





Wayne Hussey Solo

Ursprünglich geplante US Tour Oktober / November 2007
Wurde jedoch nie bestätigt und fand nicht statt!

(31.10.2007 Salt Lake City - Club Vegas)







14 (15) bekannte Daten, 1 fehlende Setlist